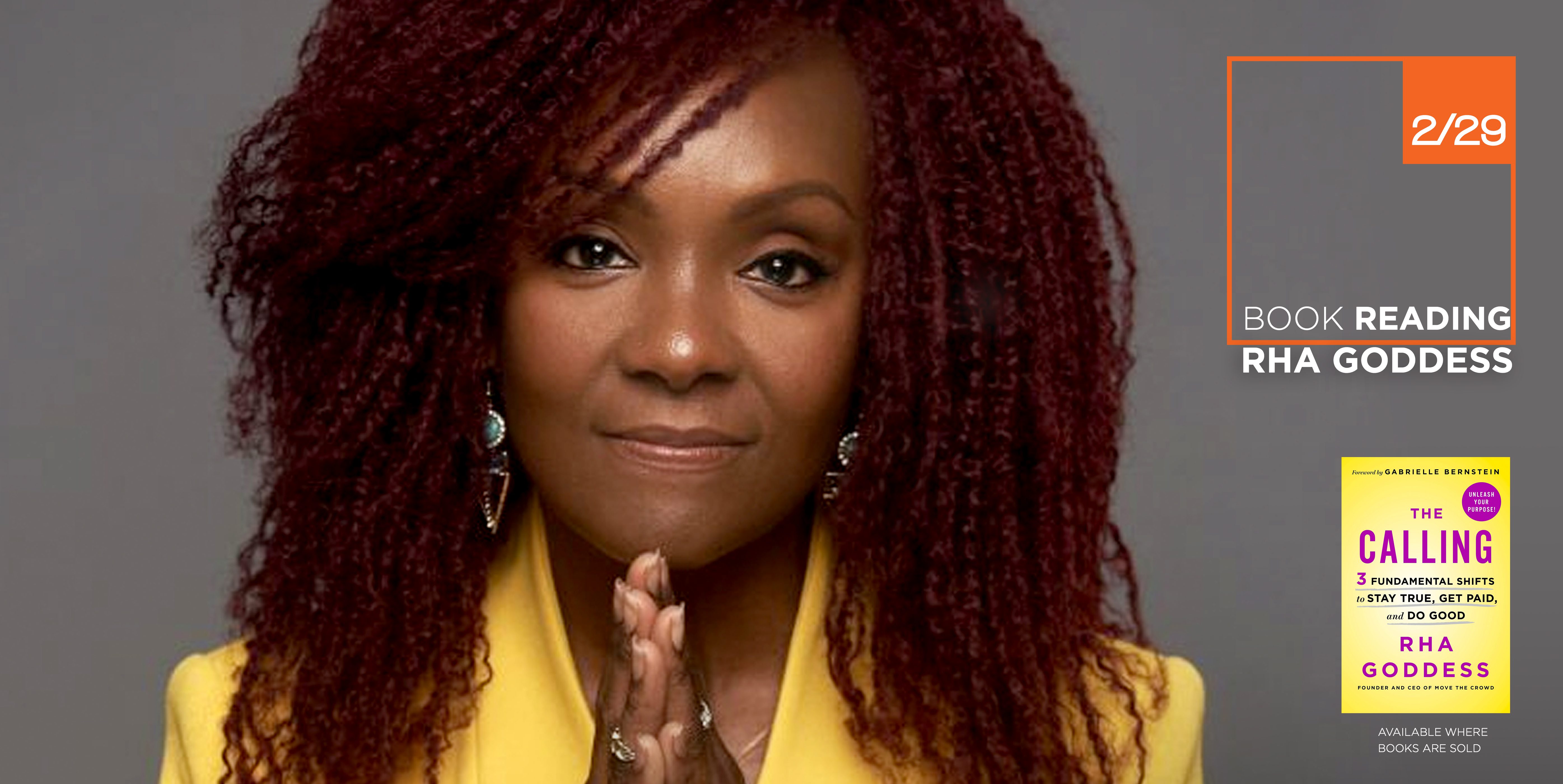 Join us for a provocative dialogue with Rha Goddess Founder & CEO of Move The Crowd, and author of The Calling: The 3 Fundamental Shifts To Stay True, Get Paid, and Do Good. This event will be part mixer, discussion, and Q&A as we explore the 3 core shifts that entrepreneurs need to embrace to succeed and progress with sustainable results and move through any perceived limitations while pursuing their purpose and calling.
"Rha Goddess has dedicated her life to helping others find their passion, their purpose and their profit. The Calling, gives you a front row seat to her innovative and timely approach."

– Daymond John, New York Times Bestselling Author, Celebrity Entrepreneur and Investor, ABC's Shark Tank.
AGENDA:
12:00pm – 12:20pm – Arrival & Mixer
12:20pm – 12:45pm – Discussion
12:45pm – 1:30pm – Book signing*
**(With purchase[Retail Price: $25.99])
More about Rha Goddess:
Rha Goddess is the entrepreneurial soul coach behind hundreds of breakthrough changemakers, cultural visionaries and social entrepreneurs. From multiple NY Times Bestsellers to multi-million dollar social enterprises, Rha's unique methodology has empowered a new generation of conscious entrepreneurs to stay true, get paid, and do good. From the onset of her more than 30-year career as a cultural innovator, social impact strategist and creative change agent, Rha has drawn on the power of creativity, culture and community to move hearts, minds and policy. Rha's work has focused on issues of racial justice and equality, electoral politics, offender aid and restoration, mental health and youth and women's empowerment and contributed to initiatives that have impacted millions of lives. As CEO of Move The Crowd, Rha is galvanizing a movement of 1 Million entrepreneurs dedicated to re-imagining "work" as a vehicle for creative expression, financial freedom and societal transformation. Rha's new book, The Calling (St. Martin's Press) leverages her unique methodology into a step by step blueprint for finding your purpose and making your most profitable contribution.