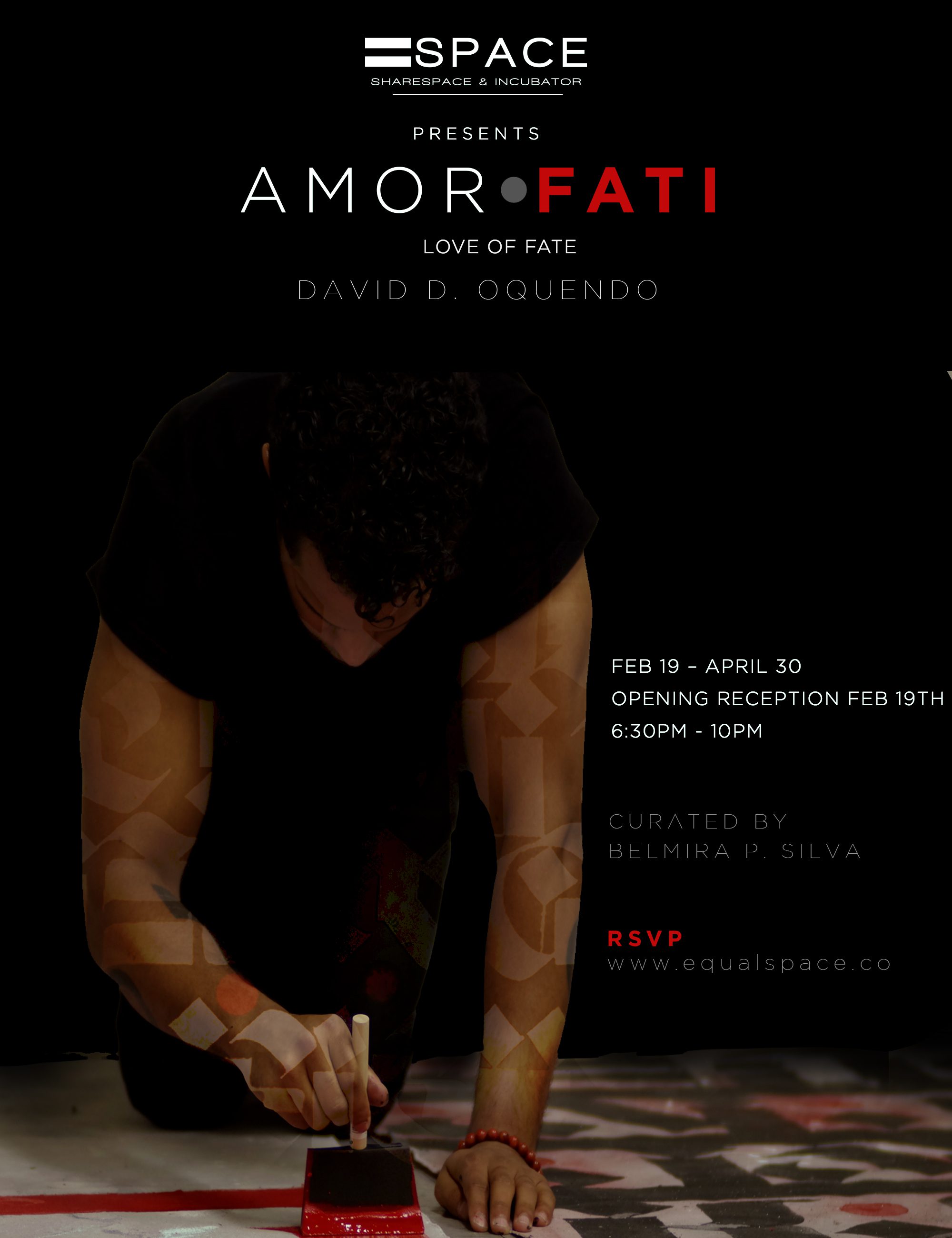 EQUALSPACE is proud to present David D. Oquendo's "Amor Fati". Loosely translated to "Love of Fate"; Amor Fati is used to describe an attitude in which one sees everything that happens in one's life, including suffering and loss, as good or, at the very least, necessary. Oquendo has developed a personally constructed script. He calls this writing system, "Metaphrase". This "Metaphrase" is a series that includes large-scale wall renderings (indoor and outdoor) and mixed media paintings. The artwork explores the artist's ideas and questions of identity, language, meditation, religion, and life. Oquendo is steering his work to align with his beliefs and practice of Stoicism and positive affirmations that help him make incremental progress in his life and his struggle with depression, suicidal thoughts, and his disability. AMOR FATI is the practice of loving everything that happens and seeing all circumstances as a chance to grow. Not just accepting it, nor simply tolerating it, but leaning into it. As a Latinx individual, there's no other way to live.

AGENDA:
6:30PM – Networking
7:05PM- Introductions
7:10PM – Artist Talk w/David Oquendo (Moderated by Citi Medina, Founder of =SPACE)
7:40PM- Networking & Tour of Artwork/=SPACE's new facility addition
8:40PM – Closing Remarks
9:00PM – End of Event
RSVP HERE: http://bit.ly/Am0RFAt1
ABOUT THE ARTWORK
David Oquendo's artwork explores the artist's ideas and questions of identity, language, meditation, religion, and life. The genesis of the series is personal. The artist was diagnosed with a learning disability as a child – causing difficulty in speech, comprehension, translation, and writing. Each letter is a system that has been influenced by Textualis Quadrata with hints of Eastern Kufic and Hebrew calligraphy. Completion finds the balance between obfuscate text and the beauty of calligraphy. With this series, David D. Oquendo challenges the notion of what language must be, how language must be used and how language must look like.
Oquendo believes that language is not only about communicating with one another, it is also a tool to develop meaning in the world around us. Language allows one to categorize, and to normalize; it allows us to look at multifaceted ideas and simplify it. It also allows us to build a sense of self, a sense of security and comfort in our own being. It lets us believe that we are in fact someone in particular, and someone unique. It distinguishes the artist, Oquendo, from you, the audience. Language stabilizes the disarray of existence. But only to a point because of all the possibilities it offers it is also limiting. It doesn't allow one to articulate the entirety of existence and therefore fails to alleviate the artist's fear of it. This failure of language, especially language beautifully displayed, to mitigate the artist's fearful fascination of existence is a major theme in "Metaphrase". The work is created by the artist, for the artist, yet admired and unraveled by the audience.