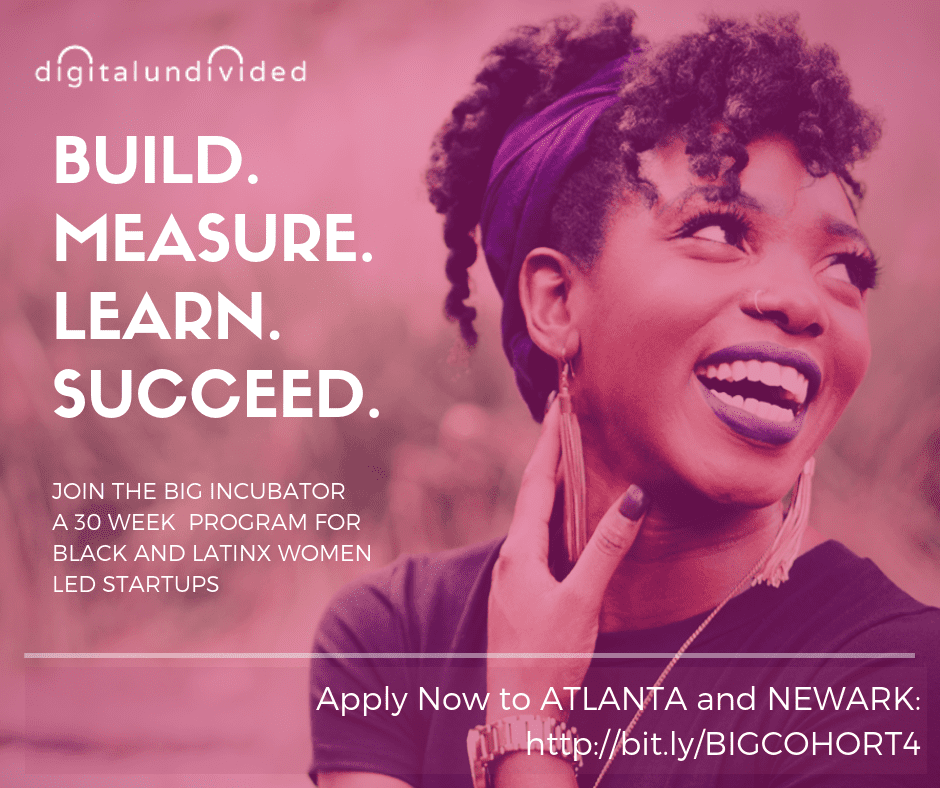 Are you a Black or Latinx woman entrepreneur who needs a little bit of a push and a competitive edge? Look no further!
About the BIG Incubator Program:
As an award-winning program (2x SBA Growth Accelerator Winner, INBIA Incubator of the Year, MIT Inclusive Innovation) that provides a direct pathway into the innovation economy for women of color, the BIG incubator is the only space solely dedicated to the development of high-growth tech businesses founded by Black and Latinx women.
BIG is a direct response to the findings in digitalundivided's ProjectDiane 2018, a groundbreaking research report that demonstrates the current lack of funding available for Black and Latinx women founders.
The BIG incubator is housed at the BIG Innovation Center, a 3,000-square-foot hub in downtown Atlanta dedicated to fostering innovation in diverse communities. digitalundivided is expanding its BIG Incubator program and Innovation Center to Newark, NJ in 2019 and 3 additional locations by 2020. Applications for the 2019 cohorts in Atlanta and Newark are available here. More details and FAQ's are available here.
About digitalundivided:
digitalundivided's (DID) mission is for Black and Latinx women to own their economic security through entrepreneurship and technology. Founded in 2013, DID takes an innovative approach to community-level economic empowerment by creating pathways for Black and Latinx women (BLWE), and thus the larger Black and Latinx communities, into the innovation ecosystem. digitalundivided has demonstrated core competencies in building and scaling successful data-driven programs that remove barriers and create highways for women of color into innovation, entrepreneurship, and has thus served as a singular force in moving the needle on inclusion in the innovation economy as a whole. For more information, visit www.digitalundivided.com and follow us on Twitter, Facebook, and Instagram.