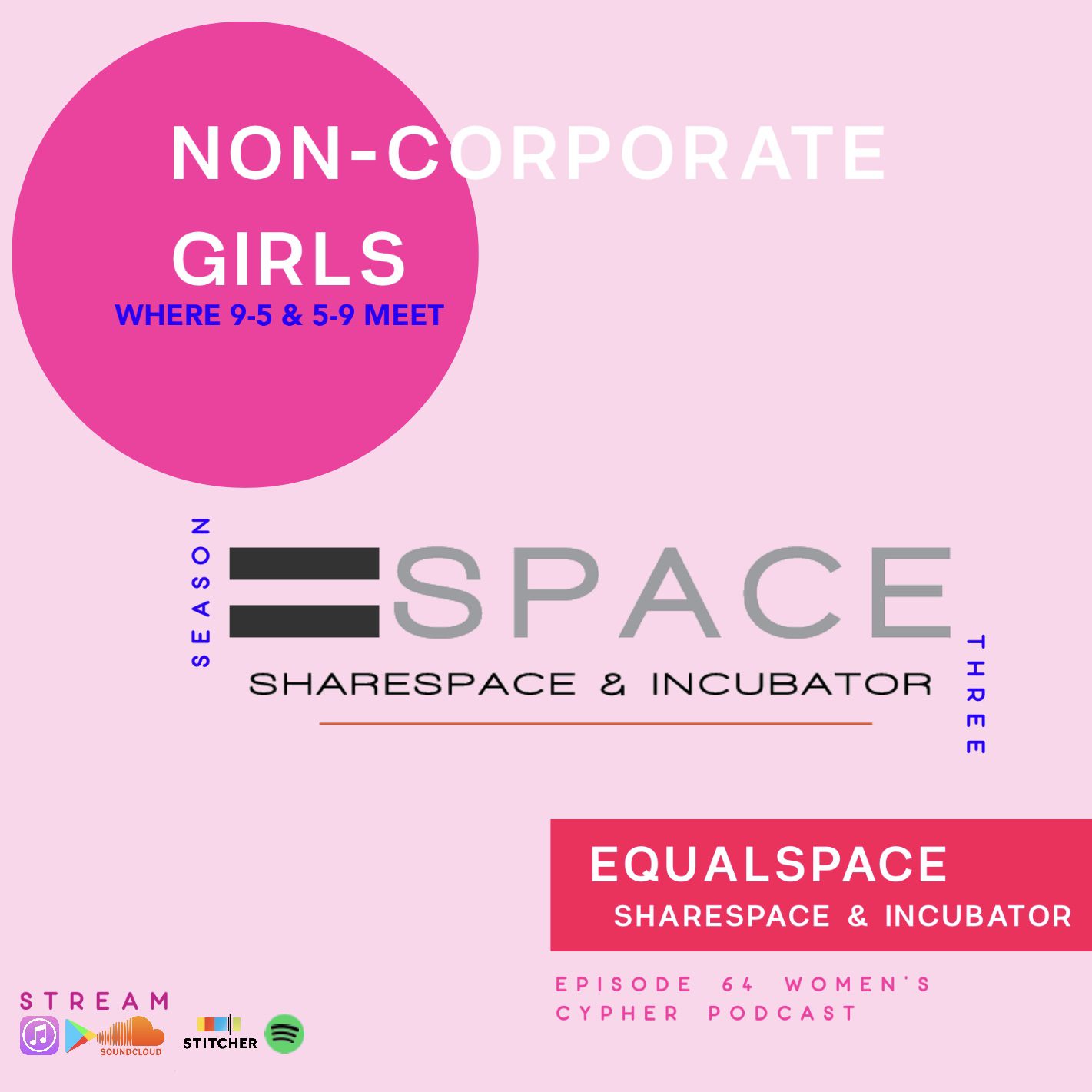 Women's History Month this year has really been one for the books and to top it off The Non–Corporate Girls partnered with =Space  for an all women round table talk. We delved into topics such as competition vs collaboration, how to quiet the voice of fear and what does it look like to support your network. NCG was joined by Vicky Llerena , Akosua Ayim, and Tamara Williams, who all lead impactful lives in very different ways. In listening to the stories of each we also shed light on all our commonalities as women entrepreneurs and business owners. Listen in to this episode for a refreshing perspective on what we all deal with at one point or another. An often great reminder  of a women's worth, especially in a collective of like-determined sheroes!
Click the link below to tune in on this dope podcast episode!
 About The Speakers:
Vicky Llerena
Vicky is the CEO of Social Vibes Media, a digital marketing agency focused on helping professionals, real estate game-changers, and small businesses rebrand & increase their digital presence. Her workshops focus on digital lead generation campaigns, social media branding, & female entrepreneurship. Oh, and she happens to be Latina.
She brings with her over ten years of experience having worked at Univision WXTV-41 and PRNewswire. Vicky was named Top 25 Brand Builder by Leading Women Entrepreneur in 2017. She works with organizations, such as Rising Tide Capital, Statewide Hispanic Chamber of Commerce of NJ, FOWNDERS, and Small Business Development Center to teach entrepreneurs how to obtain online customers through social media. Vicky was featured in NJBiz, Huffington Post, CEO Blog Nation, and many more media outlets.
Akosua Ayim
A 2016 MBA graduate of University of Cambridge's Judge Business School, Akosua specializes in branding & strategy and especially thrives in the cross-section between corporate and creativity.
After four years in investment banking at J.P. Morgan gaining experience in financial analysis, account management, process improvements and derivatives, acquiring an MBA enhanced her strategic thinking and management skills. Working post-MBA with Adludio, the London-based programmatic adtech start-up, has given international experience in strategic branding and partnerships. Akosua is well-known for efficiently providing sustainable, unique solutions and providing highly rated client service to a wide variety of clientele. She has since worked with household names such as Black Girls Rock! and Travel Noire. Akosua should most certainly be in your "people you need to watch" list.
Tamara Williams
As the founder and president of Soulective Group aka SoulCulture Fest, Tamara had the opportunity to manage multiple events, budgets, deadlines, schedules, and programs for a very diverse demographic. She currently spearheads a variety of events including SoulCulture Fest, with over 4000 festival goers. As an artist, Tamara brings a creative and fresh approach to events for an innovative experience.
Non-Corporate Girls
Non-Corporate Girls LLC is a podcast and creative agency platform. Through the agency portal, NCG Creative, we provide services in content strategy and visual storytelling in the lifestyle, beauty and fashion spaces. The Non-Corporate Girls podcast is a media vertical where we speak on advice, tips and overall resources to help those trying to figure out their passions and in turn, help shape their brands.
Being Non-Corporate does not mean being against Corporate America. Non-Corporate is a state of mind that evolves when you realize you are being limited in reaching your full potential, which means it is time to start betting on yourself to take the next steps in propelling your career. Embracing a Non-Corporate attitude we aim to introduce a community where the creators, the doers, and the believers can unite.