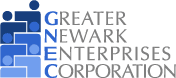 Greater Newark Enterprises Corporation is a community development corporation, and Certified CDFI, established in 2005. The Organization is exempt from income taxes under Section 501(c)(3) of the Internal Revenue Code and similar provisions of the State code.
GNEC provides financial assistance and training to small businesses in a variety of topical areas, including financial literacy for entrepreneurs, business planning and business management across a myriad of industries.
GNEC has provided structured entrepreneurial training and technical assistance since 2007 under the Urban Entrepreneurs Development Institute (UEDI), reaching more than 500 individuals each year. Services are provided to low- and moderate-income individuals in general as well as to target populations such as young entrepreneurs (aged 18-30), women entrepreneurs, small contractors, and previously incarcerated individuals. In the past three years, GNEC has graduated more than 150 individuals from its entrepreneurial training curriculum.
GNEC has roots in the Central Ward of Newark, NJ and has become a major urban business resource due to its history of providing microloans and delivering effective training and technical assistance resources. The organization is adept at identifying challenges of entrepreneurs, bringing expertise that helps the entrepreneurs address their challenges, and when possible, providing capital to help entrepreneurs start and expand their business.